In 1688, Takeya Matashiro established a bamboo shop under the name TAKEMATA.
By constantly dedicating ourselves to fulfilling customer wishes to the fullest extent possible and continually handing down traditional techniques for more than 300 years, we have pursued the design, production and installation of everything from daily-use implements and accessories to bamboo garden fences.
Today, we make full use of Kyo-meichiku (Genuine Kyoto Bamboo) as well as innovative approaches combined with techniques passed down from TAKEMATA artisans of past generations as we propose and create bamboo products designed to harmonize with contemporary lifestyles.
Business Name

TAKEMATA NAKAGAWA TAKEZAITEN

Establishment

1688

Business Activities

Design and installation of garden-use bamboo materials, bamboo fences and sodegaki decorative partitions;
production of bamboo building materials and interior finishing materials;
production of craft products for tea ceremony and flower arranging applications;
design and production of interior products (tables, chairs, light fixtures, etc.) and decorative accessories;
proposal and production of other bamboo-related products in general;
and hosting of bamboo-crafting workshops and hands-on events

Representative

Masatsugu Nakagawa

License

Contractor's license #34643 approved by the governor of Kyoto Prefecture (General-14)
for garden design/landscaping, construction, carpentry and interior finishing

Qualifications

Class I Certified Bamboo Artisan (cut-bamboo processing, bamboo splitting and assembly, bamboo weaving),
Class I Architect, Class I Garden Design Management Engineer

Store Location

610 Daruma-cho, Gokomachidori-Nijo-agaru, Nakagyo-ku, Kyoto 604-0962
Tel: 075-231-3968
Fax: 075-231-3948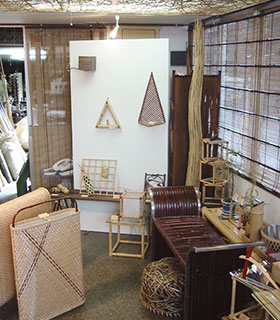 ○ Subway: 5 min. north on foot from exit 10 of Kyoto Shiyakusho-mae Stn. on the Tozai Line.
○ Bus: 5 min on foot from Kyoto Shiyakusho-mae Bus Stop
View Larger Map